TGIF supporting cast: Where are they now?
Kimmy Gibbler (Andrea Barber) – Full House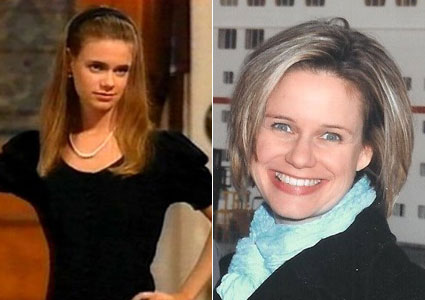 Wondering why you haven't seen much (or really any) of Kimmy Gibbler since the '90s? It's because the quirky Full House actress, who played the annoying neighbor and D.J.'s BFF, decided to retire from acting after the show ended.
Andrea went to Whittier College with a major in English and later got her MA in Women's Studies at the University of York in England. The former teen actress is married to Jeremy Rytky and they have two children, Tate and Felicity. She's super active on Twitter, calling herself "Ex-Gibbler," giving away old Full House scripts, and tweeting up a storm with New Kids on the Block, among others.
Joey Gladstone (Dave Coulier) – Full House
Did you know that Dave Coulier founded his own children's entertainment company, F3 Entertainment, in 2000? Cut. It. Out! Besides starting his own company, the famous impersonator and Full House legend appeared on a couple of reality shows, including The Surreal Life in 2004 and Skating With Celebrities in 2006. While we all wish we could still see Uncle Joey do voices with his Woodchuck puppet, Dave now resides in Los Angeles and has his own comedy tour. In his free time, Dave enjoys flying airplanes and playing ice hockey.
Cousin Cody (Sasha Mitchell) – Step by Step
Mitchell played Frank's himbo nephew Cody Lambert, who lived in his van on the Lamberts' driveway.
Prior to Step by Step, Mitchell also played Duffy's nephew on Dallas.
Mitchell hasn't worked much since the series ended. He most recently appeared in the 2013 film Cyborg Nemesis.
Eddie Winslow (Darius McCrary) – Family Matters
Eddie was the typical troublemaking, not-so-smart jock with a constantly rotating group of girlfriends. The eldest Winslow sibling, too-cool-for-school Eddie also became Urkel's best friend over the course of the series, relying on his geeky neighbor next door to bail him out of tight situations from time to time. Since Family Matters, McCrary has recently starred in The Young and the Restless as well as provided the voice of Jazz in Transformers.
Shawn Hunter (Rider Strong) Boy Meets World
Rider went on to do voice work for "Kim Possible" before starring in Eli Roth's horror flick "Cabin Fever" and writing/directing/starring in "Irish Twins" with his brother, Shiloh. He graduated from Columbia University in 2004.
Topanga Lawrence (Danielle Fishel)
Whoa! Fishel's biggest claim to fame after "Boy Meets World" was being the spokesperson for Nurtisystems. She also hosted "The Dish" on the Style Network and appeared on a 2011 episode of "Parenthood.
You may also be interested in The Best TGIF lineup of the 90s.